The Caregiver Council is a monthly support group for parents or caregivers of youth affected by a parent's incarceration.
This is a caregiver-led group meant to build community among families impacted by parental incarceration. It's open to men and women. Every first Saturday* of the month from 3 – 4:30 pm at the Blaisdell YMCA. Share your stories, share your strength.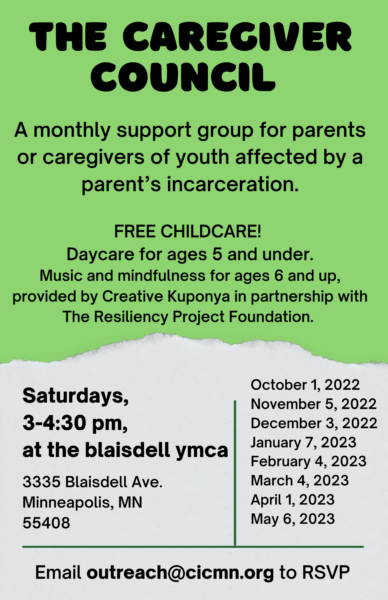 Free childcare is provided
Free childcare will be provided during the Caregiver Council. Kids 6 and older will have the chance to do art, music, mindfulness and more with the amazing Creative Kuponya team! Kids 5 and younger will go to YMCA daycare.
Dates for 2022-23:
*Saturday, September 10, 2022 (NOTE: Due to Labor Day weekend, this group will meet the second Saturday of the month)
Saturday, October 1, 2022
Saturday, November 5, 2022
Saturday, December 3, 2022
Saturday, January 7, 2023
Saturday, February 4, 2023
Saturday, March 4, 2023
Saturday, April 1, 2023
Saturday, May 6, 2023
RSVP
If you'd like to attend the support group and are planning to bring a child, please email outreach@cicmn.org with the following information:
Your full name
Your phone number
Your child/children's full name(s)
Your child/children's birthday(s)
How you learned about CIC
The Caregiver Council is a self-led group. CIC advertises the Caregiver Council, connects the Council with local organizations and educators, and provides special opportunities for the families who attend. CIC is not responsible for what occurs during the Council, nor for the content of any presentations given during the Council.